We encourage you to book EARLY. Our availability is extremely limited. If you would like to go dog sledding this winter, please reserve with us as soon as possible.
Each trip with Jackson Hole Iditarod Sled Dog Tours is a scenic, warm ride in a modern sled. Our musher-guides are always alert, willing and eager to point out wildlife: deer, elk, moose, bighorn sheep, bald eagles, and points of interest. You can relive the old days of mushing by running a team yourself.
Our Destinations
Granite Creek Canyon
Bridger Teton National Forest
Depending on snow conditions, our season can start as early as late November and often times runs into April.
Special arrangements can be made to go on training excursions with Frank's Iditarod team, providing Frank's home, and not in Alaska racing. Our tour specialist can tailor outings for large social, professional and corporate groups.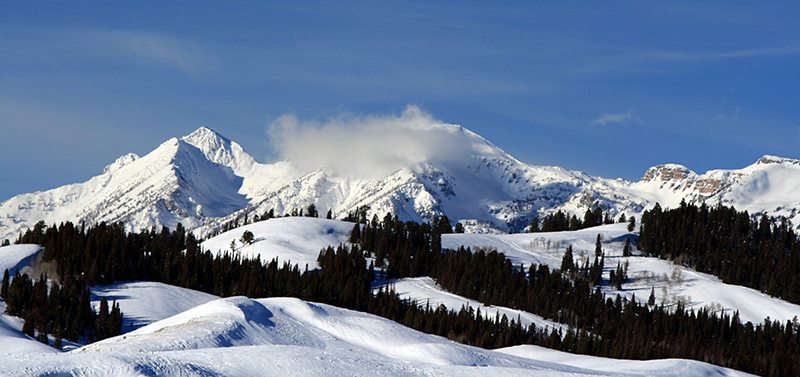 You may choose the length of your trip: full or half day trips are available.
Full day trips pick up in town at 8:00 a.m. and return at approximately 4:30 p.m. They include a hearty lunch, and hot soups and beverages. If you plan on going on a full day trip, you will travel twice the distance, and at the end of the line you will also get to swim in the warm Granite Hot Springs.
Half day trips pick up in town at 8:00 a.m. and return at approximately 1:30 p.m. Half day trips include hot beverages and soups. Half day trip does not go all the way to the hot springs. Our half day campsite is partway up the same trail to the springs but we physically cannot make it all the way to the springs and back in a half day's time. (We occasionally will run afternoon half day trips if the mornings are not full and if colder weather conditions prevail keeping the trail firm. The colder conditions help to keep the dogs cooler and allow the sleds to traverse the trails much easier. Afternoon half day trips pick up in town at 11:45 a.m. and return at approximately 4:30 p.m.)